Posted in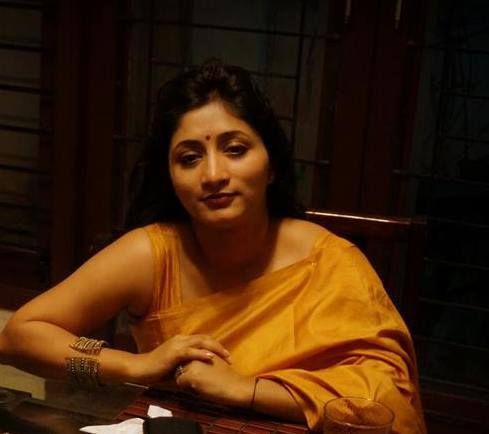 I am watching Satyajit Ray's Ghare Baire again after many years. Keenly, I watch the iconic scene where the female protagonist Bimala steps out of her antar mahal with her husband into a world where she is far more aware of her self worth, conscious about things around her. I think to myself, had this been a Ekta Kapoor serial, the exact moment where the female protagonist raises her leg to cross the threshold would have been played over and over again for at least twenty minutes worth of television time, the music might have changed from an approaching soft, to a thunderous crescendo depicting the momentous, and yet here everything is subdued, even nonchalant?
I rewind the scene on my screen to check whether the female protagonist played by Swatilekha Chaterjee (Sengupta) has her feet dipped in Alta as was the system amongst Bengalis from that age, still prevalent in many houses till date. But the scene shows Bimala wearing a shoe; I am surprised and for a moment my mind connects the eminent flowering of knowledge that is about to happen to her with that of the Ashoka tree referred to in many mythological texts, as the tree that blossoms when touched by a beautiful woman's feet. I am reminded of another of Ray's filmsCharulata. The one scene that perhaps stays back for many viewers, who have watched Charulata and idolized Madhabi Mukherjee, is where she sits on a swing in her garden singing in joy with her husband's brother. Again, it is the feet here that are used as subtle symbolism of her dreams and reality. Charulata's life is like her feet, from time to time they seek to fly and while she does dream of the impossible, she is dragged into reality by the same feet that touch the ground again and again reminding her of her place, her status in society and so much more.
Having seen Ray's films since long I am delighted to suddenly discover his use of feet in different films in ways that other film makers might have overlooked. This brings me joy, as the use of the feet has a special place through my years of growing and becoming the individual I am today. I'm reminded of an interview of ad guru Prahlad Kakkar I had chanced upon as a teenager, where he had mentioned that the one aspect of a woman that fascinated him was her feet. I had smiled then, reflecting on the specific importance that the female feet often assumes in our culture both as part of our mythological and cultural traditions that govern most homes.
I find it strangely sublime that the feet of the Indian woman, is in many ways largely associated with symbolism ranging from strength to humility to prosperity. As children the most fun aspect of Lakhmi Puja at home was the Alpona that we were made a part of. The rice was soaked in water the night before and grounded the next day, to make a fine paste that would help us in decorating the house with little feet of Lakshmi as she entered homes both big and small. Ma had taught us how to draw the perfect feet of Lakshmi, a beautifully rounded 'S', adorned by five little strokes at the top, meant to indicate the five fingers on the goddesses feet. I remember a particular year when I had drawn both the left and right feet of Lakshmi together, and Ma had laughed at me saying Lakshmi would have to jump her way into our home, as in the game of hop scotch, if she followed the pattern I had made. This brought home the realization that the extent to which the feet of a woman dominated our minds and associated it with things both big and small may well be an undeniable part of our culture. When Joydeb writes in his Geet Govind 'Dehi padme ballava mudaram'( Radha's foot on the head of Krishna) he would perhaps have in mind the strength of Radha's love and the power that it evokes. A symbolic association of the female form, in the writer's mind perhaps as well as an acknowledgement of Krishna's total surrender to such a force, not only divine but all encompassing in its most beautiful totality.
Kolkatta artist, Dithi who is inspired by the Kalighat paintings, its ambiance and the force of Kali and Durga makes lithographs that show the feet of a woman adorned in Alta. For Dithi these feet are as much a source of power as of delicacy and the ability of a woman to realize that her strength lies in using both with control. Kalkatta wali Kali as we know her, is dark in the face, red tongue thrown back, abandon in every pore of her long hair, force in her body language and yet she is contrite at the misuse of that very force, as she steps on the Mahadev and realizes her folly of going on a rampage of destruction. It is this subtle sense of the dual and the power it gives to each woman in making the decision of how she chooses to use her feet once she has stepped forward with it that makes the journey of the feet and its subtle symbolism so powerful.
Over the years we carry traditions through us and then we innovate some, my daughter draws her own Alpona on Lakshmi Puja too, amongst the traditional little 'S' that she draws to symbolize the feet of Lakshmi, I see a little witch with a broom, ready to fly at the drop of a hat. Looking around at the scattered feet that she has liberally drawn, some up on the walls, others tracing Lakshmi's journey out of the house, I'm glad Lakshmi is relieved of her burden to deliver the goodies. In this house at least she is free to run around, climb the walls if she chooses to, drop her holier than though grab and fly on a broom stick, as for the feet I choose to have those of my daughter's embedded around the house as Alpona, firmly planted in love and with the complete freedom to fly.
----------------------------------------------------------------------------------------------------------------------------
About the Author : Maitreyee B Chowdhury is a Bangalore based writer, she maybe found at http://www.maitreyeechowdhury.com/
About the Column : Throughout my school life I was a wallflower, the eternal introvert, the one aspect that gave me tremendous solace through this lonely journey was watching people. People carry friends through their lives, I carried curiosity and innumerable nameless faces who have enfolded their stories in front of me. Most of these are stories maybe those without consequence, and yet as any writer/observer will tell you in the right hands and mind every inconsequential story has shape, scent and flavor and in the end it is always what YOU see and how you see, that matters more that what is shown.