Submitted by
Lopa
on Mon, 08/11/2014 - 01:45
Posted in
Maya Angelou: Rise of the phenomenal woman
"Pretty women wonder where my secret lies.
I'm not cute or built to suit a fashion model's size
But when I start to tell them,
They think I'm telling lies.
It's in the reach of my arms,
The span of my hips,
The stride of my step,
The curl of my lips.
I'm a woman
Phenomenally.
Phenomenal woman,
That's me...."
(Phenomenal Woman: Maya Angelou)
In the morning of May 28, 2014, a life lived with beauty, grace, ruthless confidence and fearless passion came to a screeching halt. Maya Angelou, the poet, memoirist, activist, dancer, singer, civil rights activist, mentor and hero to the oppressed, truly a women representing the Renaissance among the modern times, breathed her last in Winston-Salem, North Carolina, a place that she called home for the last three decades of her life. The 'caged bird' whose songs soared on the wings of an eagle left behind the legacy, depth and wisdom of her phenomenal life in her classic works of poetry and memoirs. As for her innumerable readers, they will remain seeped in the classic intensity and power of her poems including Phenomenal Woman, Still I Rise and I Know Why The Caged Bird Sings, the seething, penetrating documents of the life and persona of the woman who dared to talk from the heart, and had fearlessly depicted her rawness, passion, vulnerability as well as strength, inspiring us with the magic of her words.
My first tryst with the poet and profound thinker Maya was the reading of the fiercely feminist poem Phenomenal Woman. Like her other readers and admirers, I had been inspired by the way she unfolded the unconventional beauty and the deep, raw sexuality of a woman in the lines of the poem. In this fiery poem, she comes across as immensely unrelenting and unforgiving about her self-identity as a woman. The way she writes about 'the ride of my breasts', 'the swing in my waist', the 'span of my hips', she actually chronicles the heart of every woman, documents their own struggles with a rousing spirit, and a joyful, unabashed soul. The poem happened to be the first literary work of this amazing, gifted storyteller and poet that encouraged me, taught me the courageous expressions of creativity.
Maya's life can be studied as a miracle of hope and inspiration in a world driven by social discrimination and sexual objectification of a woman. From the life of a fry cook to a nightclub dancer to that of a journalist in Egypt and Ghana, a writer and poet laureate, an actor, director and producer of plays, movies and television programs, Maya has experienced it all. Living with the excruciating struggle and abuse inflicted on a young black woman by a white dominated America, with the hardship of growing up with the idiocies of sexism and racism, and raising her voice against it, she has been proud and inexorable about her blackness and her womanhood. Her works bring out the essence of her empowerment through all of this, imploring us to believe we can seek out a better world and be a part of it, with our sense of pride and responsibility.
To me, her poems and her autobiographical works became emblematic of her supreme pride in her womanhood, her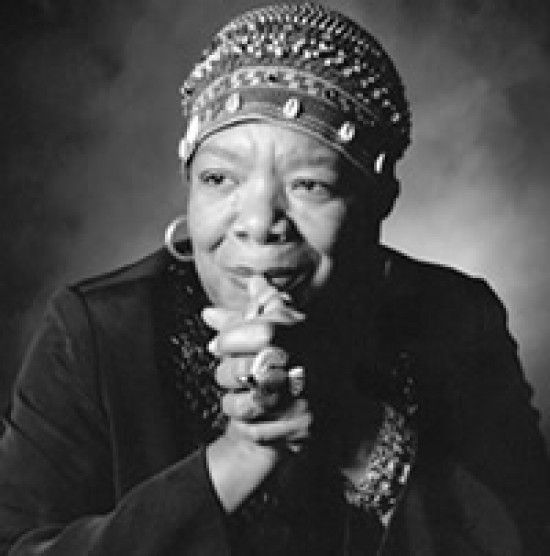 blackness and sexuality, while also representing the essential humility of a true artiste, a delicate, beautiful poise and balance which will be remembered for being crafty, yet honest and uncompromising. The story of her own life, an extraordinary journey of struggle, redemption and self-discovery, is movingly depicted in her seven autobiographies and has had tremendous impact on the feminist identity of many women. And what makes the journey rich and unique is, in each of them, Maya inspires us, the readers to be true to our own unique selves.
It inspires us to think how in her journey, she encounters hardship, social and sexual discrimination, violence and self-doubt, and ultimately towers above them all as the true phenomenal woman. Her journey encompasses a whole gamut of the ugliest and the loveliest experiences of womanhood, starting from sexual abuse as a 7-year old girl to the bliss of giving birth to her first child. In other words, her books are centered on her biological and spiritual transformation from an abused young girl to a woman of rare wisdom and fortitude, on how she perceives the power of her inner self and spirituality to move on and shape her own life. Her memoirs, 'I Know Why the Caged Bird Sings', 'Wouldn't Take Nothing For My Journey Now', 'I Shall Not Be Moved', 'The Heart of a Woman', 'Gather Together in My Name' are passionate, lively, lyrical accounts of unforgettable experiences which offer a sunbeam of truth on every page.
Maya believed in striving for greatness and attaining it with truth, passion and humility. In her poem 'A Brave and Startling Truth', she writes, "When we come to it/We must confess that we are possible We are miraculous, the true wonder of this world That is when, and only when/We come to it."
In these gritty, powerful lines, she emphasizes on the idea that we all, as humans, are capable of greatness, irrespective of our social standings, irrespective of what our individual circumstances in life may be. She has once famously said, "All my work, my life, everything I do is about survival, not just bare, awful, plodding survival, but survival with grace and faith. While one may encounter many defeats, one must not be defeated."
From the little girl who had become mute following terrible abuse and oppression to the poet and thinker who miraculously restored her voice with the magic and soothing touch of literature, Maya's life has been a journey of redemption and self-discovery. Being a black poet did not restrict the literary appeal of her work, for which she has been an inspiration to all women and men, be it an immigrant, an adolescent, a rape victim or a holocaust survivor. The bold, awakened poet in her had confronted bitter truths of her own life, thereby shedding docile stereotypes of women who have been embedded in our culture for centuries. Her personal narratives, including 'I Know Why A Caged Bird Sings', which had previously been named autobiographical fiction, have later won the critical acclaim of classic autobiographies, in which she takes the creative freedom to structurally challenge and critique, while also striving to expand the genre. In league with her readers who cherish her delectable texts of a woman's freedom and defiance of overarching patriarchy, I salute the soaring spirit that will remain ever-strong, a voice towering over this life, echoing across the world.
-----------------------------------------------------------------------------------------------------
About the author : Lopa is a freelance writer, poet, blogger, wife and mother of two beautiful girls, Srobona and Sharanya. She is also in her final year of studying creative nonfiction writing at the University of Nebraska at Omaha. She has just completed her memoir, a book-length collection of personal essays and stories on her childhood, motherhood and her internal journey titled 'Thwarted Escape: A Journey of Migrant Trails and Returns'. Besides, she writes poetry, reads classic, romantic and post-colonial poets as intimate voices that echo her own helplessness, pain and anguish.
About her column : "What are words, anyway? They were there, my first milky blabbering's that delighted my parents, they were there, my first attempt to construct a sentence with meaning, they were there, in every step of my way, in my rhetorical journey to womanhood. Like scattered pearls, I have collected them, internalized them, nurtured them and put them down on paper, in my quest to understand the tapestry of creation. With these scattered pearls, today, I contemplate and reminisce, with them I have come to know of my little moments of epiphany which I may share with you in this little space. They have remained with me all the way, while growing up in the outskirts of Kolkata, India with my small family, as I witnessed the world in its simple, every day paraphernalia. They have chased me every day, as I have passionately sought my creative forces and the true significance of my femininity. Today, working my way as a wordsmith, these scattered pearls are helping me define my self-identity as a writer, an artiste, a partner and a mother every single day. In this column, I will unfurl them, one at a time, for you to discover their truth, beauty and mystery. "
Image Courtesy : Google Images